Nordic Walking in Suffolk
Nordic Walking in Suffolk
Have you ever considered Nordic Walking (originally Finnish sauvakävely)? Its a low impact walking exercise that not only helps with fitness, but also allows you to get some fresh air, see the beautiful countryside and exercise at the same time. You can walk along the beaches, through nature reserves and even suburban parks, and built up footpaths.
Nordic Walking started out as a cross-training exercise in 1988 for elite cross-county skiers, it's an activity suitable for all ages and fitness levels. It's an exercise where you walk with pace, using specific poles to support your technique. Like with most things it does take patience and practice. Once you get into the rhythm of the walk its very relaxing and exhilarating in equal measures.
The fitness and health the benefits of Nordic Walking are significantly greater than regular walking, trekking or even jogging, with scientific research from Europe and the USA showing that Nordic Walking:
Activates 90% of the body's muscles
Burns up to 46% more calories than regular walking
Increases aerobic effect by up to 25% compared vs regular walking
Decreases load & strain on the lower body
Tones upper arms, shoulders & back muscles
Improves lateral mobility of the spine
Develops core stability & strength
Promotes a good upright posture
These benefits are achieved through the use of specially designed poles (NOT trekking poles) and a specific Nordic Walking technique, whereby the poles are used as a resistance tool to engage the upper body. The result is a low impact,with high results –  therefore giving a  total body exercise.
If you are interested in having a go, we have teamed up with a local Nordic Walker  – Maggie who will be delighted to guide you in to Nordic Walk, she also provides the Nordic Poles, which are specific to your height. After the initial 'how to' Maggie will take you on one of the walks around Orford or Aldeburgh.
All you need are sturdy walking shoes or boots, walking clothing and a small ruck sack for your water and spare jacket. I did buy some new boots and waterproof walking trousers which was money well spent and does make the walking much more comfortable.
You don't need previous experience, although you should be able to comfortably walk a couple of miles. If you are interested email me and I will send you Maggie's number.
If you are already a Nordic Walker we have a number of walks locally which are perfect; Captains Wood in Sudbourne, Rendlesham Forest and the old railway track in Thorpeness.
Just in case you need more convincing, have a listen to Ramblings with Clare Balding – you will hear how much fun Nordic Walking  is.. Ramblings on Radio 4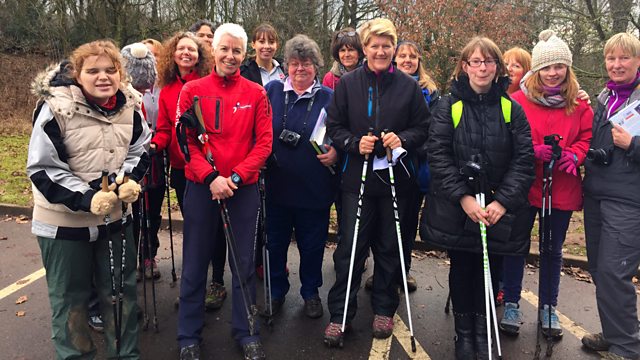 Clare was walking in Bramcote Park in Nottingham.
   Kit and caboodle
Nordic walking poles are significantly shorter than those recommended for cross-country skiing. Nordic walking poles come in one-piece, non-adjustable shaft versions, available in varying lengths, and telescoping two or three piece twist-locking versions of adjustable length. One piece poles are generally stronger and lighter, but must be matched to the user. Telescoping poles are 'one-size fits all', and are more transportable although they are not as robust as the one piece pole.
Nordic walking poles feature a range of grips and wrist-straps, or rarely, no wrist-strap at all. The straps eliminate the need to tightly grasp the grips. As with many trekking poles, Nordic walking poles come with removable rubber tips for use on hard surfaces and hardened metal tips for trails, the beach, snow and ice. Most poles are made from lightweight aluminum, carbon fibre, or composite materials. Special walking shoes are not required, although there are shoes being marketed as specifically designed for the sport.
How to…
The cadences of the arms, legs and body are, rhythmically speaking, similar to those used in normal, vigorous, walking. The range of arm movement regulates the length of the stride. Restricted arm movements will mean a natural restricted pelvic motion and stride length. The longer the pole thrust, the longer the stride and more powerful the swing of the pelvis and upper torso.
Tempted?
Let me have any questions in the comments and I will do my best to answer.
Happy Nordic Walking – Warm Wishes Sara x